Summer Theater Camp!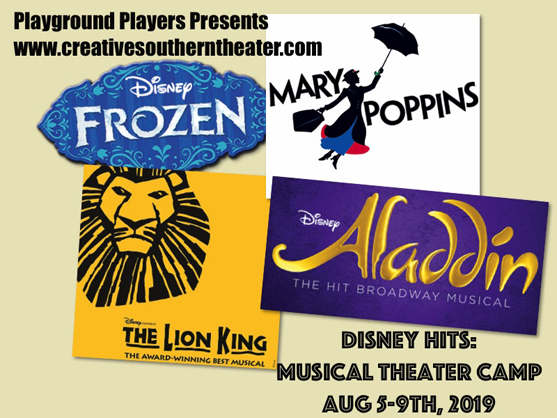 WHEN: August 5th– 9th, 2019
TIME: 12pm-5pm
COST: $250
WHERE: Wingate University, Batte Fine Arts Center
Disney Hits: Musical Theater Camp
Come be a part of a theater experience where you'll sing, dance, act and make new friends!
Our camp is an all-inclusive theater experience that will allow you to be a part of a performance like none other.
Campers will learn scenes and songs from Disney's Broadway blockbusters and perform them at the end of the week in a Disney Review on the main stage of the Batte Fine Arts Theater! Students will also participate in costume and prop creation and will learn vocalization technique and improv!
Students will receive rehearsal and performance tracks, lyric sheets, t-shirt and all materials needed for the show.
We have a great time together learning more about these shows, how to perform and about being a team on stage!
Come join us for this fun week that will have your kids singing and dancing for joy!
TBA - Additional week in Charlotte, NC at Sharon Presbyterian Church COMING SOON!
For more information, or to sign up, email Camp Director Erica McGee at ericaallenmcgee@hotmail.com or call 704-847-9672!